Cooperative Welfare Service Corporation
About the Cooperative Welfare Service Corporation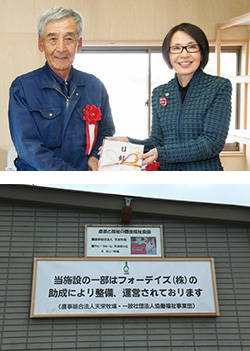 The establishment of the Cooperative Welfare Service Corporation is found upon the importance of younger generations, the elderly and the disabled to work together to promote regional industries and prepare the next generation to connect with the next to revitalize disaster-affected areas. This led to the establishment of the farm care facility, Aizu Misato Horse and Horticultural Therapy Center in December 2015.
The facility was proposed as "Farm Care of the Future". The mission of this facility is to practice horse and horticultural therapy which are a comprehensive combination of agriculture, horticulture and welfare in the modern age while focusing on employment and education.
Specifically, we aim to increase employment opportunities by allowing people with disabilities to cultivate plants, take care of horses and interact with each other providing physical and mental therapy to relieve and stabilize their conditions. Since its establishment, the Aizu Misato Horse and Horticultural Therapy Center has received critical acclaim from the local agricultural producers and is gaining popularity as complementary/alternative medical care from medical professionals.
In 2017, this facility was moved to Tenei-mura, Fukushima, renewed as a new project called the Cooperative Welfare Service Corporation. The Cooperative Welfare Service Corporation focuses on developing group homes and Type-B continuous employment support offices. Fordays will continue to extend their support to provide self-sufficiency for the disabled.
For group home inquiries, please contact the Cooperative Welfare Corporation via fax (0248-94-6264)
Support Details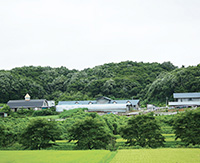 In April 2016, Fordays donated 6 million yen to the Aizu Employment Welfare Support Corporation as the second support project of the [Project for Supporting the Independence of People with Disabilities in Disaster Affected Areas]. The corporation has been making preparations with up-front investment with its own funds, but will utilize these funds for improving the farmland environment at the Aizu Misato Horse and Horticultural Therapy Center.
Fordays has been continuously providing additional support in 2017, even after the project was moved and renewed to as the Cooperative Welfare Service Corporation Tenei-mura, Fukushima. Through this, we sincerely hope that our form of support and awareness for the disabled will grow in popularity and expand nationwide.