Nucleic Acid
Nucleic Acid (DNA/RNA):
Thinking of Health on the Genetic Level
DNA (deoxyribonucleic acid) and RNA (ribonucleic acid) are collectively called nucleic acid. Both play distinct roles in sustaining life. Residing in the nucleus of a cell, DNA contains genetic instructions ("blueprints") to form life that can be passed down from one generation to the next. RNA copies genetic instructions from DNA to form proteins to form life. Nucleic acid is the basis for the fundamental functions of life and is contained in each of the estimated 37 trillion cells that make up our body. The nutritional aspects of nucleic acid have been demonstrated and are also gaining wide-spread attention.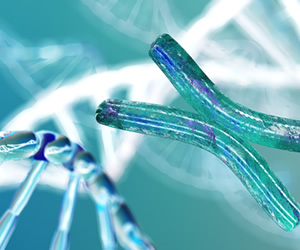 "DNA": Encoding Genetic Instructions
DNA contains genetic instructions which are passed on from one generation to the next. It resides in the nucleus of the estimated 37 trillion cells in our bodies. The standard size of the nucleus is 0.005-0.008mm in diameter. The nucleus is packed with DNA strands that are estimated to be about 2m long.
As shown in the figure, the double-helix structure of DNA binds nucleotides together. Nucleotides are generally made up of four nitrogenous bases which gives detailed instructions to make protein in the form of sequences. This consequently determines our whole genetic structure.

DNA wraps around a small, thread-like protein called histones. Each strand of DNA forms what is known as a chromosome. In each cell, humans have 23 pairs of maternal and paternal chromosomes (22 autosomes and 1 sex chromosome). The two sex chromosomes are indicated as X and Y chromosomes. For humans, a pair of X (XX) chromosomes biologically indicates the female sex, and a pair of X and Y (XY) chromosomes indicates the male sex.
The human DNA existing as chromosomes has up to 3 billion sequences, these sections of genetic information accounts for approximately 2% of our total DNA.

The remaining sections are called non-coding DNA, where most sections were considered to be useless, however, recent studies have shown that these sections control gene expression etc. Some researchers suggest it may also contain vital information for life process. Genes are located in fixed locations on a chromosome, research had been conducted through the Human Genome Project (HGP) to map out specific genes throughout the chromosome which eventually led to the creation of the map of the human genome. Utilizing the Human Genome Project as a basis for current research, new researches are conducted under the name, "Post-Human Genome Project".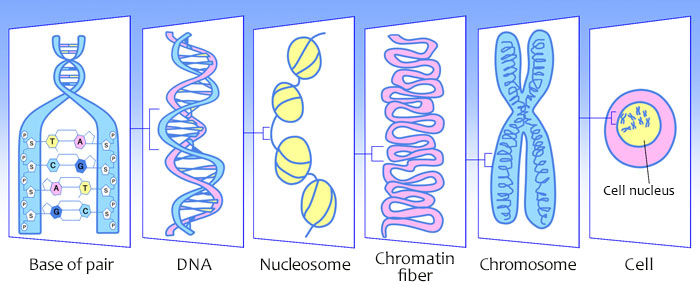 Self-Replication
A cell is the smallest unit in living organisms. Every life cycle relies entirely on cell division. Throughout this process, DNA replication is essential for genetic information to be transmitted from each parent cell to daughter cell. A significant amount of nucleotides are required for DNA replication. Nucleotides are synthesized in the body using two pathways, large amounts of nucleotides are pooled in the nucleus, as we age, it has been reported that the amount of nucleotides necessary for nucleotide synthesis will decrease. Correlations in nucleotide reduction and aging have also been proposed.
For three billion base sequences to replicate correctly, our body has a "DNA repair mechanism" that correct erroneous genome sequences at the time of replication to repair DNA damage due to oxidative stress and other factors. When there is an error in a genetic sequence, the capacity to make the correct proteins may deteriorate.
The Involvement of RNA in Protein Synthesis
RNA mainly plays a role in synthesizing proteins by binding amino acids copied from the instructions of DNA. Like DNA, RNA consists nucleotides, and nitrogenous bases adenine (A), guanine (G), and cytosine (C) remain the same while nitrogenous base, thymine (T) is replaced with uracil (U). The overall structure of RNA is different from DNA, the DNA is double-stranded, whereas RNA is single-stranded.

There are three types of RNA involved in protein synthesis, messenger RNA (mRNA), transfer RNA (tRNA), and ribosomal RNA (rRNA). As shown in the figure, these three RNAs carry out protein synthesis with the help of DNA. There are approximately 20 types of amino acids to make various types of proteins. Depending on how amino acids are ingested in the body, new proteins are synthesized with the ability to produce up to 100,000 types of proteins. The genetic sections from the DNA giving details on which proteins are to be sequenced are later copied then corresponded with codons (sequences of three nucleotides making one amino acid) to make chains of protein. Protein synthesis takes place in the following order:
(1)Transcription: The two strands of the DNA helix are separated as necessary sections to make protein are copied to the mRNA.
(2)Translation: Based on the instructions copied to the mRNA, tRNA collects the necessary amino acids and carries them to the ribosome where the amino acids are linked together to be synthesized to the necessary proteins.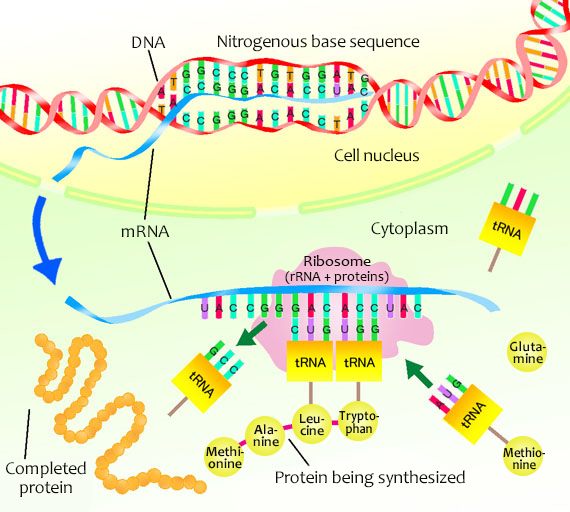 Control of Gene Expression
Our body is made up of about 37 trillion cells, each of which come in a variety of shapes, sizes, and functions. The nucleus of each cell equally contains an entire information of our genetic structure. Due to variants in genetic combinations for each cell, cells give off different functions making them unique in their own way. Based on the genetic instructions, gene expression and other functions mean the mRNA is doing its job in synthesizing proteins.
Adjustments are constantly made in the body to maintain a proper state in response to changes in external environments and other factors. In this way, gene expression is controlled differently and individually through various mechanisms. Significantly, most control in gene expression happens during transcription. In recent years, the discovery of miRNA (microRNA) and siRNA (short interfering RNA) posttranscriptional control of gene expression have been demonstrated among the RNA that are not involved in protein synthesis. Since the completion of decoding the human genome, the discovery of a new and important function of RNA regulating gene expression has been gaining wide-spread attention.