Body Run Bar New Guard
Body Run Bar New Guard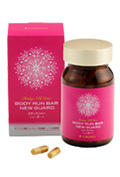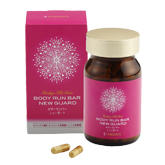 A diet support supplement that focuses on optimizing gut flora function. Contains bifidus B-3, smart lactic acid bacteria, probiotic narine, catechin, and multigrain koji. Packaged in acid-resistant vegetable capsules to ensure the bacteria arrive in the gut in a viable state.
| | |
| --- | --- |
| Product category | Processed food containing bifidobacteria (Hard capsule-type) |
| Net quantity | 20.4 g (340 mg x 60 capsules) |
Ingredients
Starch, lactic acid bacteria, lyophilized bifidobacteria, grain koji powder, hydroxypropyl methyl cellulose, tricalcium phosphate, calcium stearate, tea extract, Caramel I.
Nutrition information
per 2 tablets (0.68 g)

Energy: 2.7 kcal, Protein: 0.05 g, Fat: 0.02 g, Carbohydrate: 0.57 g, Salt equivalent: 0.004 g

Bifidus B-3: 50 mg, Smart lactic acid bacteria: 20 mg, Probiotic narine: 150 mg
Directions for use
Take two tablets per day with cold or warm water. Swallow whole; do not chew.