Mousa Essence Drink SNOWy
Mousa Essence Drink SNOWy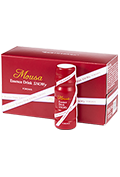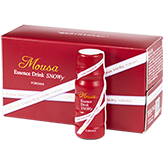 A beautifying essence drink containing pineapple cerimides and collagen tripeptides
The active ingredients in Mousa Essence Drink SNOWy work on various levels to support skin health and beauty. This product is ideal for people who desire moist, supple skin that possesses a clear radiance and appears firmer and more youthful.
A deliciously fruity, date flavored supplement drink.
| | |
| --- | --- |
| Product category | Non-carbonated beverage (Date flavor) |
| Net quantity | 500ml (10 x 50ml mini bottles) |
Ingredients
Water, fructose glucose syrup, honey, hydrolyzed collagen, pineapple fruits extract, soluble zinc yeast, soluble selenium yeast, salmon milt extract, ascorbic acid, caramel I (plain), emulsifier (glycerin fatty acid ester), citric acid, sucralose, flavor, vitamin B

6

(pyridoxine hydrochloride), vitamin B

2

(riboflavin), vitamin B

1

(thiamin mononitrate). Contains traces of fish, soybean and milk.
Nutrition information per 50 ml serving

Energy: 22 kcal, Protein: 0.4 g, Fat: 0 g, Carbohydrate: 5.1 g, Salt equivalent: 0 g, Vitamin C: 110 mg, Vitamin B1: 1.0 mg, Vitamin B2: 1.6 mg, Vitamin B6: 1.5 mg, Zinc: 1.0 mg, Selenium: 7.0 μg

Pineapple ceramide: 130 mg
Collagen peptide: 375 mg
Directions for use
Take one 50ml bottle per day. Shake gently before opening. Best served chilled. After opening, consume immediately.