Natural RNA Mother
Natural RNA Mother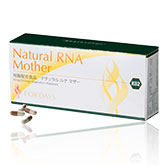 A capsule-type supplement containing nucleic acid (DNA, RNA), as well as three types of minerals (zinc, copper, selenium), gingko leaf extract, odorless garlic extract, and placenta extract. Recommended for people looking to maintain their youthfulness and good health.
Product category
Processed food containing torula yeast extract and salmon milt extract. (Capsule-type)
Net quantity
63.5 g (45 sachets (1 sachet: 4 x 353 mg capsule))
Ingredients
Torula yeast extract, salmon milt extract, brewer's yeast extract, rapeseed oil, zinc yeast, ginkgo leaf extract, garlic extract, copper yeast, placenta extract powder (derived from swine), dextrin, selenium yeast, gelatin, vitamin C (ascorbic acid),
L-arginine, vitamin B

12

, sucrose fatty acid esters, sodium ferrous citrate, calcium pantothenate, vitamin B

1

, nicotinamide, vitamin B

2

, vitamin B

6

, titanium dioxide, caramel color, vitamin A, vitamin D, folic acid.
Nutrition information
per 12 capsules
(4,236 mg)

Energy: 16 kcal, Protein: 3.1 g, Fat: 0.26 g, Carbohydrate: 0.28 g, Salt equivalent: 0.15 g, Vitamin C: 500 mg, Zinc: 7.5 mg, Copper: 0.47 mg, Selenium: 12 μg

Torula yeast extract (containing RNA): 750 mg (RNA 440~520mg),
Salmon milt extract (containing DNA): 600 mg (DNA 138~180mg),
Arginine: 500 mg, Ginkgo leaf extract: 60 mg, Odorless garlic extract: 50 mg, Placenta extract (derived from swine): 25 mg
Directions for use
To maintain good health and beauty, take 2 to 3 sachets (8-12 capsules) per day with hot or cold water.
Swallow capsules whole. To prevent choking, do not attempt to swallow all 4 capsules at once.