Message from the CEO
It's the people around us that give us the courage to create a brighter future.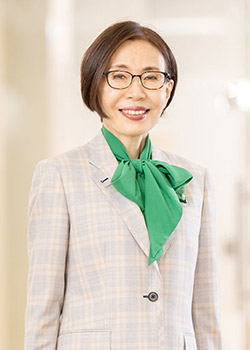 To begin with, I would like to thank all of Fordays members for continuing to choose and actively promote Fordays products.

2017 will mark 18 years since we began selling Natural DN Collagen. Sales of this product have continued to grow every year since its introduction, thanks in large part to the ongoing patronage of our loyal members.
More than simply demonstrating what an amazing product Natural DN Collagen is, this phenomenal longevity reflects the genuine consideration our members continue to show for the health and wellbeing of those around them.

The foundation of our success is the trust that members have in our company. This trust stems from the effort each and every member makes to build and maintain trusting relationships. We aim to be successful for many years to come by developing trustworthy products that help strengthen bonds between people.

In October of last year, after 18 months of painstaking research and development, we released Aren, a new product conceived by our in-house research department and developed in consultation with members. Since the release of this product, we have received a great deal of positive feedback. This has reinforced our belief in the power of products to change peoples' lives. But, the real gift has been the strong bonds Aren has helped foster between children and parents, parents and grandparents, and between friends. We will to continue to focus on the fostering of strong bonds built around great products, thereby creating a business model other businesses cannot replicate.

For the current financial year, which concludes at the end of March, we are forecasting sales of over 40 billion yen. This would mean 17 consecutive years of revenue growth. When we past the 20 billion yen mark, we affirmed our commitment to being a company that returns profits to its members, its staff, and society as a whole. Having now doubled our revenue, we are more determined than ever to reward these stakeholders for their continued trust and support.

In addition to developing new products and receiving accreditation for the functionality of existing products, we continue conduct research and gather evidence that supports the efficacy of our entire product lineup. This enables members to use our products with confidence and peace of mind. We also proactive in supporting members' efforts to build successful businesses.

Through activities such as funding research at the University of Tokyo and UC Davis in the US, we are endeavoring to contribute to the continued success of the entire healthcare industry. Furthermore, we are planning to establish a Food Study Group that explores ways of contributing to the health of society through "food culture". We will provide details of this initiative in the near future.

Last year, devastating earthquakes hit Kumamoto and Tottori, causing great trauma to the people living in these regions. I was deeply saddened by these distressing events, but hearing stories of how people came together and supported each other during these tough times convinced me of the important role communities play in our society.

We should never underestimate the importance of communities. It is the people around us that give us the courage to create a brighter future.

I want Fordays to evolve into a company that brings smiles of joy to peoples' faces. This starts with building communities of people willing to work together to shape the future.

President Keiko Wada, Fordays Co., Ltd.