Typhoon Hagibis Relief
2019 Typhoon Hagibis Relief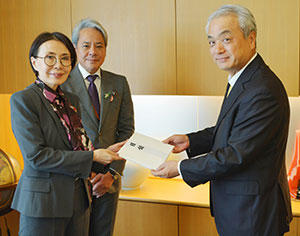 Donations
For the purpose of extending our support to the affected victims and areas due to Typhoon Hagibis, Fordays Co., Ltd. has donated a total of ¥131,390,674 through the reception of the Sankei Shimbun Co., Ltd. and Sankei Shimbun Social Welfare Association.
Details:

¥100,000,000 from Fordays Co., Ltd.
¥31,390,674 total donations Fordays members and Fordays employees
Condolence payments to local Fordays members in the area
Condolence payments will be sent at a later time.
Volunteer Work
To show our support for Typhoon Hagibis, we carried out volunteer work with our Fordays members. We will continue our volunteer work with hopes for a prompt recovery.
Volunteer Work
The volunteers who arrived at the volunteer center were dispatched to chrysanthemum greenhouses in Kanuma City, Tochigi Prefecture. A massive flood from a nearby river overtook the greenhouses from the strong impact of the typhoon. The volunteers engaged in removing mud from the five flooded greenhouses. Thanks to our volunteers who worked together for a prompt recovery, the mud removal in the greenhouses was complete in two days.
Period: October 30, 2019 - October 31, 2019
Location: Kanuma City, Tochigi Prefecture
No. of volunteers: 15 Fordays members, 21 Fordays employees. Total: 36 volunteers.