11th Symposium (February 1, 2019 Osaka)
11th Health-Related Academic Symposium
The 11th symposium was held on February 1, 2019 (Friday) at Matsushita IMP Hall in Osaka, with the theme, "The Potential of Food and Nucleic Acid That Lead to a Long and Healthy Life".
The first-half of the symposium was given by Professor Hisanori Kato of University of Tokyo on the topic of the new common sense of food and health demonstrated through molecular nutritional science, followed by Professor Yukio Kato of Kanazawa University, giving a lecture on the functions of nucleic acid in the body. In addition, Tadahiro Nomura, winner of three consecutive Olympic gold medals in judo, was invited as a special guest speaker.
The second-half of the symposium was followed by a panel discussion by Dr. Koji Usumi of Life Science Institute on the topic of food and nucleic acid a being the key to living a long and healthy life, "Nutritional science has significantly expanded the average longevity of human life, in this era of 100-year life, we want to pursue further potentials of nucleic acid in the field of nutritional science." Dr. Nomura, doctor of medicine, demonstrated his research paper saying, "With the focus on 'food' I started conducting my research on amino acid consumption when I started to experience my own delay in physical recovery." Dr. Hisanori Kato said, "I am expecting many presentations on nucleic acid research at the International Congress of Nutrition (ICN) scheduled next year."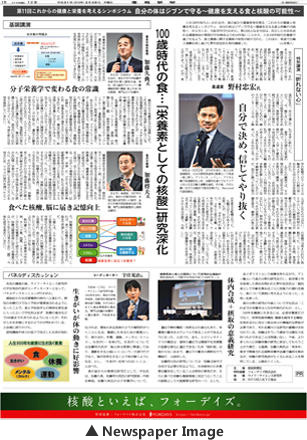 Comments from the Audience
I was reminded of how amazing nucleic acids are.
I realized today that it is important to learn and apply them to myself.
From participating I came to understand that information changes with time.
See details at Sankei News.
[Sankei News] for PC and smartphone (available in Japanese only). 
Details
Title
11th Health-Related Academic Symposium: Food and Nucleic Acid to Lead a Long and Healthy Life.
Hosts
Sankei Shimbun Co., Ltd.
Partners
KYG Association (NPO)
Special Sponsorship
Fordays Co., Ltd.
Sponsors
Life Science Institute
Date
Tuesday, February 1, 2019 Start: 12:30PM Close: 1:30PM
Location
Osaka Matsushita IMP Hall
Details

Lecture: "The New Common Sense of Food and Health Demonstrated by Molecular Nutritional Science"

University of Tokyo, Professor, Hisao Kato

Lecture: "The Journey of Nucleic Acid and Its Relation to Brain Activity"

Kanazawa University, Professor, Yukio Kato

Special Guest Speaker: "An Unbreakable Heart"

Judoka, Tadahiro Nomura

Panel Discussion: "Food and Nucleic Acid to Lead a Long and Healthy Life"

[Panelist]
Life Science Institute, Dr. Koji Usumi
University of Tokyo, Professor, Hisao Kato
Kanazawa University, Professor, Yukio Kato
Judoka, Tadahiro Nomura
Host: Chika Ueda