14th Symposium (February 11, 2022 Live Stream)
14th Health-Related Academic Symposium
The 14th Health-Related Academic Symposium (hosts: Sankei Shimbun, sponsors: Fordays) was held online on February 11, 2022 (Friday). Continuing from last year's symposium, this year's symposium also dealt with recurring measures to prevent the spread of the coronavirus.
Focusing on the subject of exercise, dietary protein and nucleic acids, four guest speakers were invited to give lectures on this subject: Professor Shinya Kuno MD of Professor of University of Tsukuba, Graduate School of Comprehensive Human Sciences and Leader of Sports and Wellness Promotion Program; Senior Professor Toshi Nagaoka of Gifu University; Olympic Gold Medalist, Kosuke Hagino and Dr. Koji Usumi of Life Science Institute. This symposium was a valuable lesson to learn about daily exercise and nutrition necessary to live a healthy life for the era of 100-year life.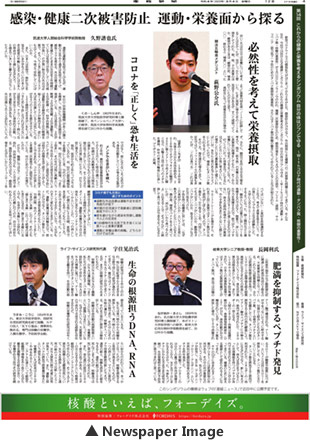 This article and livestream video is available on the official Sankei Shimbun website.
[Sankei News] for PC and smartphone (available in Japanese only).
Details
Title
Health-Related Academic Symposium: The Importance of Exercise, Dietary Protein and Nucleic Acid During the Age of the Coronavirus
Hosts
Sankei Shimbun Co., Ltd.
Partners
KYG Association (NPO)
Special Sponsorship
Fordays Co., Ltd.
Sponsors
Life Science Institute
Date
Friday, February 11, 2022 Start: 1:30PM Close: 3:10PM
Details

Lecture: Staying Healthy and Coping with the Pandemic - Facing Social Issues and Looking Towards the Post Coronavirus Era

University of Tsukuba, Graduate School of Comprehensive Human Sciences
Leader of Sports and Wellness Promotion Program, Professor Shinya Kuno MD

Lecture: Unraveling the Relationship Between Dietary Habits and Protein - Correct Intake May Prevent the Risk of Obesity

University of Gifu, Senior Professor / Professor Satoshi Nagaoka

Lecture: Habits of an Athlete That Led to My Performance on the Big Stage - Proper Dietary Habits That Kept My Body Physically Prepared

Kosuke Hagino, Former Competitive Swimmer and Olympic Gold Medalist, Team Bridgestone Japan

Lecture: Creating a Healthy Body Through Nucleic Acid Supplementation

Life Science Institute, Dr. Koji Usumi