Message from the CEO
Continuing to lead the way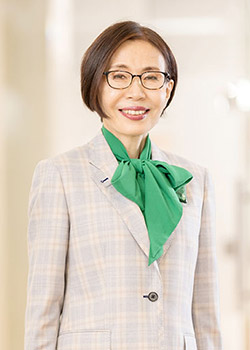 Let me begin by thanking all Fordays members for continuing to choose Fordays products and actively promote the Fordays business opportunity.

2018 marks 21 years since Fordays was founded. Despite facing innumerable challenges over the years, thanks to the ongoing support and patronage of our loyal members, Fordays has been able to achieve an unbroken run of prosperity.

In November 2017, Fordays completed construction of a new factory for manufacturing Natural DN Collagen, with production officially kicking off in March of this year. This shift into manufacturing is the first step towards a new style of business for Fordays that will give us more control over our supply chains.

Network marketing is a business model that requires the company to work closely with members and support their business activities. A key factor in the success of this business model is the integrity and visibility of supply chains. By taking greater control of our supply chains, Fordays hopes to strengthen member's trust in the long-term viability of our company. Continuing to deliver peace of mind built on trust will help us to develop closer ties with both our members and the wider community, ties that will be critical to our ongoing success the years ahead.

Regarding the progress of our global expansion plans, in 2017, Fordays celebrated the official launch of our Hong Kong operations, as well as the relocation of our salons in Taiwan and Hong Kong to larger premises.
2018 has already seen the commencement of operations in South Korea, and we are looking to commence operations in the Philippines and Vietnam by year's end.

2017 saw a positive upturn in the domestic market here in Japan, with many companies reporting strong profits for the first time since 2011. However, with the issue of an ageing and shrinking population still weighing heavily on Japanese society, a sense of gloom and despair still prevails. Promoting greater socialization among people and fostering a sense of community is the key to lifting people's spirits and bringing more joy to their lives.

This is where network marketing has a role to play. A diverse range of products that appeal to a broad spectrum of consumers can provide the perfect vehicle for rich, meaningful social interaction. For this reason, Fordays is planning to develop a range of daily necessity products to complement our existing range of supplements and cosmetics.

With recent technological advances spurring a shift toward more automation and less human interaction, the need to provide people with an opportunity to get together and build communities is greater than ever before. Motivated by a desire to satisfy this need and energized by our exciting expansion into overseas markets, we will strive to build a bigger and better Fordays.

An appreciation of the importance of communities is a value shared by all Fordays members and is a key component of the Fordays Style. An equally important component of the Fordays Style is a commitment to conducting fair and honest business activities that are in compliance with relevant laws and regulations. If all members embrace these ideals, Fordays will continue to grow and prosper.

We look forward to your ongoing support as we strive to remain a company that provides people from all walks of life with an opportunity to achieve success and live life to the fullest.

President Keiko Wada, For Days Co., Ltd.