12th Symposium (January 28, 2020 Tokyo)
12th Health-Related Academic Symposium
The 12th Health-Related Academic Symposium was held on January 28, 2020 (Tuesday) in Bellsalle Shiodome, Tokyo. The theme of this symposium was - The Potential of Food and Nucleic Acid That Support Our Wellbeing.
The first-half of the symposium was given by Professor Akane Tanaka of Tokyo University of Agriculture and Technology ("Your Immune System-How to Cultivate a Good Immune System"), followed by Professor Akiko Kojima of Osaka Metropolitan University Graduate School ("Lifestyle-Related Disease-A Hidden Trap in Your Dietary Habits") followed by a talk show from former football player for the Japan national team, Masakiyo Maezono.
The second-half of the symposium was followed by a panel discussion by Dr. Koji Usumi of Life Science Institute ("The Potential of Food and Nucleic Acid That Support Our Wellbeing"). This panel discussion exhibited an exciting atmosphere, getting the audience members involved in the discussion of living a healthy long life, food, nutrition, nucleic acid to the talk of soccer.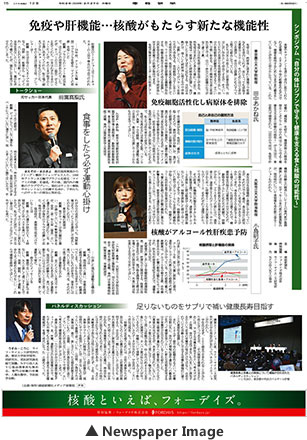 Comments from the Audience
I have never been taught so much about keeping my health in check, it was a great opportunity to be a part of this symposium.
I was well-informed about nucleic acid and how it has the potential to improve my health and immune system.
I learned a lot about diet (nutrition), rest and not several ways to prevent stress!
It was very good. If we stay healthy till we reach 100, I believe this will lead to fun and happiness.
See details at Sankei News.
[Sankei News] for PC and smartphone (available in Japanese only). 
Details
Title
12th Health-Related Academic Symposium: The Potential of Food and Nucleic Acid That Support Our Wellbeing
Hosts
Sankei Shimbun Co., Ltd.
Partners
KYG Association (NPO)
Special Sponsorship
Fordays Co., Ltd.
Sponsors
Life Science Institute
Date
Tuesday, January 28, 2020 Start: 1:30PM Close: 4:05PM
Location
Bellsalle Shiodome, Tokyo
Details

Lecture: "Your Immune System-How to Cultivate a Good Immune System"

Tokyo University of Agriculture and Technology, Professor, Akane Tanaka

Lecture: "Lifestyle-Related Disease-A Hidden Trap in Your Dietary Habits"

Osaka Metropolitan University Graduate School, Assistant Professor, Akiko Kojima

Talk Session: "An Athlete's Health and Nutrition"

Japan National Team Former Footballer, Masayoshi Maezono

Panel Discussion: "The Potential of Food and Nucleic Acid That Support Our Wellbeing"

[Moderator]
Life Science Institute, Dr. Koji Usumi
[Panelist]
Tokyo University of Agriculture and Technology, Professor, Akane Tanaka
Osaka Metropolitan University Graduate School, Assistant Professor, Akiko Kojima
Masayoshi Maezono, Former Footballer for the Japan National Team
Host: Chika Ueda