Fordays Quality
Creating a System That Assures Reliable Quality and Delivering
Peace of Mind to All

Fordays Gifu Manufacturing Plant
The Gifu Manufacturing Plant was established in 2017 for the purpose of ensuring the quality and safety of all Fordays products. At our Gifu Manufacturing Plant, we use pure, untainted water sources from the surrounding pristine environment as the base ingredient for the Natural DN Collagen. This water goes through a number of filtration and purification processes, as well as a deionization process; the end product being pharmaceutical grade purified water. Furthermore, to prevent external contamination, production takes place in a cleanroom. Line workers change into cleanroom suits and pass through the air shower room before entering the cleanroom.

The product goes through strict quality inspection from weighing of ingredients, mixing, filtration, sterilization, bottling, shower sterilization, cooling, water removal, visual inspection, labeling, packaging, to shipping. The Gifu Manufacturing Plant uses cutting-edge technology. The production process is completely automated after mixing.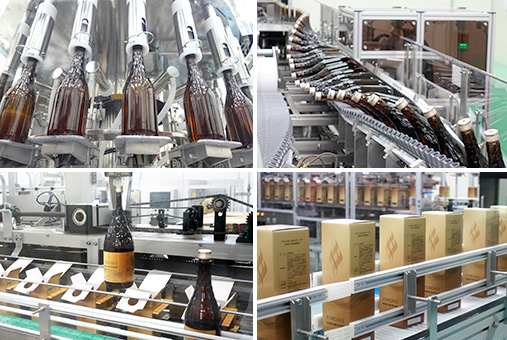 Good Manufacturing Practice (GMP) certified by the Japan Health and Nutrition Food Association (JHNFA)
On February 4, 2022, Fordays' Gifu Manufacturing Plant was certified for the Good Manufacturing Practice (GMP) program for dietary supplements by the Japan Health and Nutrition Food Association (JHNFA).
GMP is a system for ensuring that products are consistently produced and controlled according to quality standards. It is designed to minimize the risks involved in any pharmaceutical production that cannot be eliminated through testing the final product.
【3 Key Principles for GMP】
Minimizing human error during the manufacturing process.
Preventing contamination and quality deterioration.
Establishing a high-degree system for quality assurance.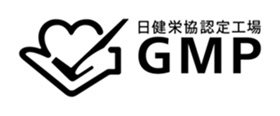 Gifu Prefecture HACCP Certification Obtainment
On August 5, 2022, Fordays' Gifu Manufacturing Plant was certified as Gifu Prefecture's Hazard Analysis and Critical Control Point (HACCP) facility. HACCP analyzes all factors that can lead to health hazards in all manufacturing processes in advance. Following GMP in dietary supplements, we have received HACCP certification from administrative agencies, and by working on thorough hygiene management, manufacturing management, and quality control. We will continue to deliver even safer products to our customers.
Fordays Quality Control Center(FQCC)
The Fordays Quality Control Center (FQCC) was established in Izu Kogen, Shizuoka Prefecture in 2009 for the purpose of ensuring the quality and safety of all Fordays products. Product samples from each production lot manufactured are sent to the FQCC for testing. Products will only be shipped to customers after the samples from each lot pass a variety of tests to verify their safety and quality. We also conduct ongoing tests to confirm product stability and quality for the duration of the specified shelf life. We make every effort to ensure our products are safe and of the highest quality so that customers can use them with confidence and peace of mind.

The Fordays Quality Control System involves not only confirming the quality of the end products, but also confirming the quality of the raw materials used and ensuring that quality is not compromised during delivery. We make every effort to ensure our products are not compromised during delivery. We are not satisfied unless our products arrive at our customer's doors in perfect condition.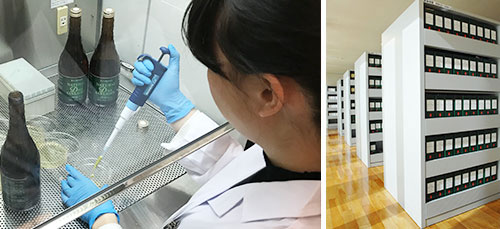 One of the key elements of our Quality Control System is manufacturing facility audits. Our FQCC staff members visit various manufacturing facilities across Japan to inspect production lines, interview onsite quality control officers, and discuss ways to further improve the quality and safety of manufacturing processes.

We also conduct programs where our members can experience extracting DNA from salmon milt and making their own hand cream. This helps members to better understand the efforts we make to ensure quality, safety, and effectiveness of our products. FQCC serves as a bridge between Fordays and its members, and helps build trust in our products and our company as a whole.
Nucleic Acid Library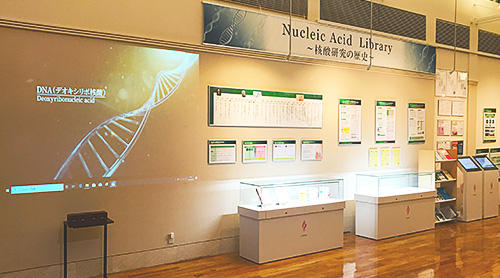 We have installed the Nucleic Acid Library inside the FQCC. The library exhibits information on the history of nucleic acid and its potentials in molecular nutritional science.
Nucleic Acid Research Time Table

The time table covers a 150-year history of nucleic acid research, beginning with the events of Friedrich Miescher's first discovery in 1869 to the present day.

Japan's First Book on Nucleic Acid Research

The FQCC exhibits Japan's first book on nucleic acid research, "Nucleic Acids and Nucleoproteins : Physics, Chemistry, Biology and Medicine" (co-authored and edited by Fujio Egami : Kyoritsu Shuppan Co., Ltd., 1951).

Other Books on Nucleic Acid

Other books on nucleic acid are also on display.

Nucleic Acid Material

The nucleic acid material used to make Natural DN Collagen is on display.

Papers and Safety Test Results

All papers, safety test results, and books posted on the wall are converted into data and stored in the digital library.

Digital Loupe

Similar to the smartphone, the digital library has zoom in / zoom out features to adjust the font size using your fingers.