Corporate Overview
Business Performance
・Revenue for FY2017 surpassed 42.4 billion yen
・Over 280,000 members
・3rd largest multi-level marketing company in Japan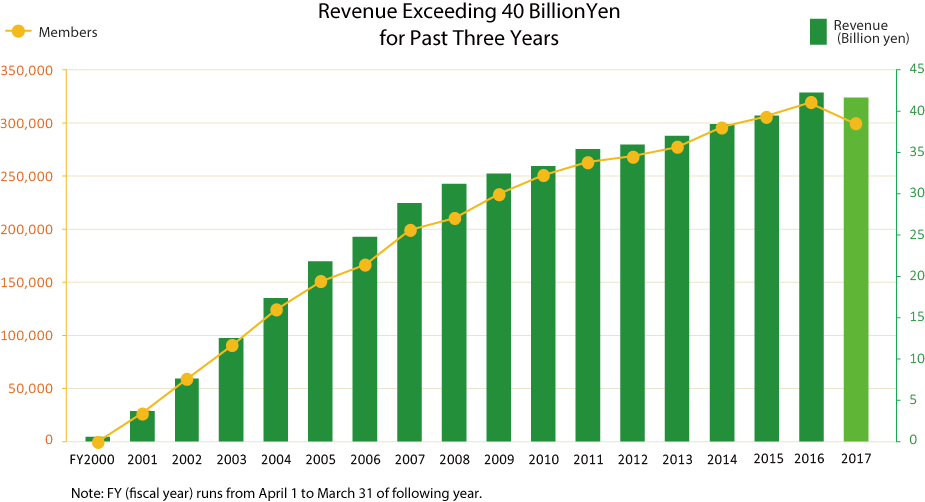 Company Overview
Company name
For Days Co., Ltd.
Head office
6-7, Koami-cho, Nihonbashi, Chuo-Ku, Tokyo 103-0016
CEO
Keiko Wada
Date founded
April 1997
Capital
45 million yen
Main business
Development and sales of dietary supplements and cosmetics
Annual revenue
42.4 billion yen(year to March 2018)
Main financial institutions
Sumitomo Mitsui Banking Corporation, Nihonbashi-higashi Branch
(Nihonbashi Higashi Corporate Sales Department)
Bank of Tokyo Mitsubishi UFJ, Monzen-nakacho Branch
(Fukagawa Office)
Mizuho Bank, Kyobashi Branch
Tokyo Tomin Bank, Nihonbashi Branch
No. of employees
273 (including non-permanent staff)
Affiliated organizations
Japan Direct Selling Association,
National Association for Direct Selling and Distribution,
Direct Selling Cosmetic Manufacturer's Association of Japan,
Japan Health and Nutrition Food Association,
CRN-JAPAN
Awards
Company of the Year Award - 2012, 2013 & 2015
(Awarded by Network Business Magazine)
Corporate Philosophy
Fordays aims to be a company that strengthens ties between people.
Ever since our establishment in 1997, Fordays has placed the highest priority on strengthening ties between people.
We have chosen a direct selling business model over more conventional marketing and sales models because we want to directly convey the value of our products to each and every customer. This approach fosters closer bonds between people and greater care for the wellbeing of others. Fordays will continue to adhere to this "Face to Face" model, and continue to cultivate trusting relationships based on the long-lasting bonds that we help to create between people.
Our company name, Fordays, derives from the concept on which our company was founded "for better and brighter days to come".
It embodies the hopes and dreams of those seeking to lead richer, more fulfilling lives.
Fordays business activities focus on supporting good health, the cornerstone of life. By promoting greater awareness of the importance of nucleic acid supplementation, we aim to enrich the lives of as many people as possible.
Business Policies
Japan's leading nucleic acid supplement company;
promoting good health from the genetic level.
Fordays continues to conduct research into the benefits of nucleic acid supplementation. In recent years, interest in nucleic acids has grown to the point where some now consider them to be a possible seventh major nutrient after proteins, fats, sugars, vitamins, minerals, and dietary fiber.
Nucleic acids, more commonly known as DNA and RNA, are a vital component of every cell in the human body. Both DNA and RNA are made up of molecules known as nucleotides. Large quantities of these nucleotides are needed for cell division, protein synthesis, and also for repairing damage to DNA, which is where human's genetic information is stored. However, the amount of nucleotides produced by the body declines as we age, while the amount ingested and absorbed from the modern diet is negligible. For this reason, it is considered beneficial to take a daily supplement containing nucleotide-rich nucleic acids. Fordays is a forerunner in the field of nucleic acid supplementation, with 17 years' experience and counting.
We are proud of record as one of the first companies to consider health from the genetic level, and have worked tirelessly to develop and improve our range of high-quality nucleic acid-based supplements and cosmetics. We are constantly driven to improve by our desire to help people live longer, healthier, happier lives.
With this in mind, going forward we will implement the following policies:
Support ongoing academic studies, clinical trials, and R&D in the field of nucleic acid and nucleoprotein supplementation, and make all findings available to the public.

Develop highly effective products and adhere to the highest quality manufacturing standards.

Provide the public with accurate, reliable healthcare information.

Ensure the trustworthiness and safety of our products.

Raise awareness of the importance of nucleic acid supplementation among the general public, specifically highlighting the role nucleic acids play in supporting good health.