9th Symposium (February 2, 2016 Osaka)
9th Health-Related Academic Symposium
On February 2, 2016 (Tuesday), the 9th Health-Related Academic Symposium (hosts: Sankei Shimbun sponsor: Fordays) was held at the Matsushita IMP Hall in Osaka. This year, with the topic of "Thinking of Brain Activity and the Future of Our Wellbeing", lectures and panel discussions were given by Professor Katsuki Nakamura (Kyoto University, Department of Cognitive Neuroscience, Primate Research Institute) and Toshiro Aigaki (Tokyo Metropolitan University School of Science, Department of Biological Sciences, Cellular Genetics Laboratory), Dr. Koji Usumi (Life Science Institute) and Akiko Suzuki (Professional Figure Skater). The 1,000 people in attendance were impressed by the many informative topics on food, lifestyle, and awareness beneficial for healthy brain function.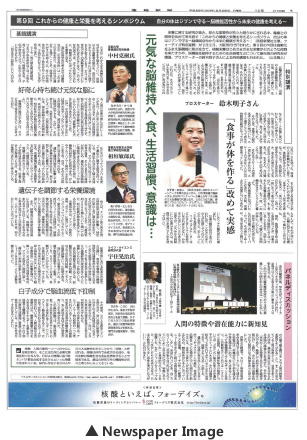 Comments from the Audience
I once again felt the importance of food and the environment. I am grateful for the inspiration. I was happy to participate. Thank you.
The story of Akiko Suzuki gave me inspiration. Her experience to accomplish anything made me feel that it my next step to accomplish anything. (Accomplishing something halfway is unacceptable.)
All the lectures made me rethink everything about the function of the brain, brain mechanisms and especially brain vitality.
Our bodies get our energy from food. There are times when I want to cut corners, but I realized it is important to emphasize the importance "food" to myself and my family. I want to be able to share this with others as well.
This symposium was very helpful, I hope to enhance my brain activity and live a positive lifestyle.
Theorizing each lecture made me rethink the way I should enhance my brain activity and live my daily life.
Details
Title
9th Health-Related Academic Symposium: Thinking of Brain Activity and the Future of Our Wellbeing
Hosts
Sankei Shimbun Co., Ltd.
Partners
KYG Association (NPO)
Special Sponsorship
Fordays Co., Ltd.
Sponsors
Life Science Institute
Date
Tuesday, February 2, 2016 Start: 1:00PM Close: 4:00PM
Location
Osaka Matsushita IMP Hall
Details

Lecture: "The Brain Can Be Trained at Any Age"

Kyoto University, Department of Cognitive Neuroscience, Primate Research Institute,
Professor, Katsuki Nakamura

Lecture: "How Nutrition Impacts Our Genes"

Tokyo Metropolitan University School of Science, Department of Biological Sciences, Cellular Genetics Laboratory
Professor, Toshiro Aigaki

Lecture: "Brain Function and Nucleic Acid Supplementation"

Life Science Institute, Dr. Koji Usumi

Special Guest Speaker: "One by One. Little by Little."

Professional Figure Skater, Akiko Suzuki

Panel Discussion: "What is a Healthy Lifestyle Achieved Through Brain Activity?"

[Panelist]
Kyoto University, Department of Cognitive Neuroscience, Primate Research Institute,
Professor, Katsuki Nakamura
Tokyo Metropolitan University School of Science, Department of Biological Sciences, Cellular Genetics Laboratory
Professor, Toshiro Aigaki
Professional Figure Skater, Akiko Suzuki
[Coordinator]
Life Science Institute, Dr. Koji Usumi