Japan Flood Relief
2018 Japan Floods Relief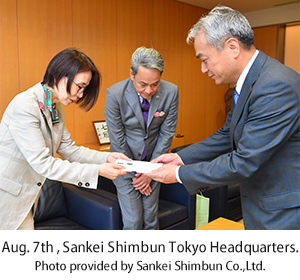 Donations
For the purpose of extending our support to the affected victims and areas due to the 2018 Japan Floods, Fordays Co., Ltd. has donated a total of ¥140,926,932 through the reception of the Sankei Shimbun Co., Ltd. and Sankei Shimbun Social Welfare Association.
Details:

¥100,000,000 from Fordays Co., Ltd.
¥40,926,932 total from Fordays Members and Fordays employees
Condolence payments to local Fordays Members in the area
We have provided condolence payments to local Fordays Members in the affected areas.
Eligible recipients: 1,684 Members
Total condolence payments: ¥24,970,000
Volunteer Work
To show our support following the Japan Floods, we carried out volunteer work with our Fordays members. We will continue our volunteer work with hopes for a prompt recovery.
Volunteer Work
The volunteers were primarily dispatched from Tokyo and stayed in Kure City the night before, being dispatched the next day from the "Kure Disaster Volunteer Center" to the Tenno district, where there were heavy damages due to the flood. The volunteers engaged in the removal of dirt and sand from attics and small alleyways where heavy machinery could not enter.
The volunteers worked under the scorching sun while being cautious of heat exhaustion.
Period: August 21, 2018 - August 22, 2018
Location: Tenno District, Kure City, Hiroshima
No. of Volunteers: 18 Fordays Members, 2 Fordays employees. Total: 20 Volunteers