Support for Traditional Japanese Culture
We do what we can to transmit Japanese traditions to continue on in the future.
Since 2012, Fordays has partnered with Sankei Shimbun's project for supporting traditional Japanese culture. To support and preserve Japanese culture and heritage, this project emphasizes the importance of obtaining joy from social gatherings and the continuation of oral traditions.
FORDAYS Presents
Support for Traditional Japanese Culture
A timeline of Fordays' special partnership with "Support for Traditional Japanese Culture" hosted by Sankei Shimbun Co., Ltd.
2018

Meiji/Hokkaido 150-Year Anniversary Special Concert: Goryokaku, Hakodate

Since 2012, Sankei Shimbun has hosted events pertaining to the support for traditional Japanese culture partnering with Fordays as special sponsors. 2018 marked the 7th Japanese cultural event held at the Goryokaku Park in Hakodate, celebrating 150 years since the beginning of the Meiji era and the colonization of Hokkaido prefecture. Two concerts took place at the Goryokaku Park, Hakodate, starting with Masayoshi Yamazaki Quartet Special Live taking place on Saturday, September 15th and Stardust ☆ Review on Monday, September 17th. (Hosts: Sankei Shimbun Co., Ltd. Special Partnership: Fordays Co., Ltd. Sponsors: Hakodate City, Hokkaido, Hakodate City Board of Education, Hokkaido Shimbun Hakodate Branch, etc.)

Despite the aftermath of the Hokkaido Eastern Iburi Earthquake, the live performances of Masayoshi Yamazaki and Stardust ☆ Review performed on the special stage against the backdrop of Hakodate Magistrate's Office uplifted the captivated audience. It was a special and an unforgettable night.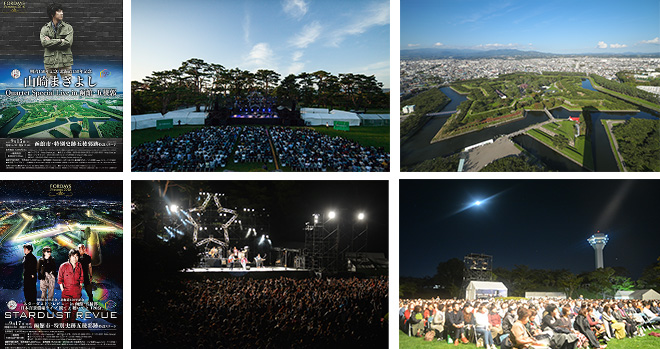 2017

Nikko Toshogu Concert

On Monday, October 9th, 2017, full-scale reconstruction on the Yomeimon Gate at the Nikko Toshogu (World Heritage/Nikko City, Tochigi) had completed and reopened to the general public for the first time in four years. To commemorate the reconstruction, the concert, "FORDAYS presents Akira Terao's COVER SPECIAL LIVE" was performed by actor and singer, Akira Terao.

2016

Daikakuji Yume Butai

On Friday, November 18th and Saturday, November 19th, 2016, the support for traditional Japanese culture and the Kumamoto earthquake relief concert, "Daikakuji Yumebutai" was held at the Kyu Saga Gosho Daihonzan Daikakuji (The Former Imperial Palace Daikakuji Temple) in Kyoto. This concert featured the appearances of accordion player, coba; singers, Junko Yagami; Ryuichi Kawamura and actor, Kanji Ishimaru. Prayerful songs and performances united and intoxicated the audience.

2015

Kasuga Taisha Concert

On Wednesday, September 30th and Thursday, October 1st, 2015, the concert, Mahoroba no Deai was performed by gagaku master, Hideki Togi, to commemorate the new Kasuga Taisha (World Heritage Site) in Nara. The dedication performance in front of the Kasuga Taisha was full of gorgeous music echoing throughout the Nara autumn.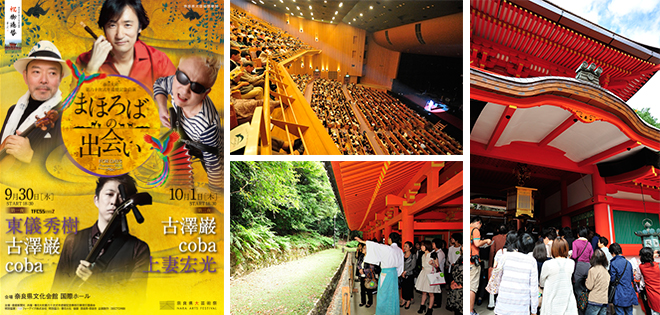 2014

Banquet of Daigo

Sunday, August 31st and Monday, September 1st, 2014, a special stage was set at the World Heritage Site, Daigoji Temple and Hojuin (Reihokan) in Fushimi, Kyoto. At dusk in the late summer, the Nihon-buyo performed by Ebizo Ichikawa shined for the first time in nine years. The audiences in attendance gave a roaring applause echoing all across the stage.
Fordays was the special sponsor of this event, supporting the succession of traditional Japanese culture.

2013

Koto no Kaze: Special Performance at the Kenchoji Temple, Kamakura

Koto no Kaze: Special Performance at the Kenchoji Temple in Kamakura was held on the 1st and 2nd of August (Thursday and Friday) 2013. The performances were by singer, Machiko Watanabe who has a beautiful, powerful singing voice and an impressive music career. Her performance was followed by the Japanese traditional Noh performance, "Ondine" both performances were staged in front of the Kenchoji Temple, famously known as Japan's first Zen temple.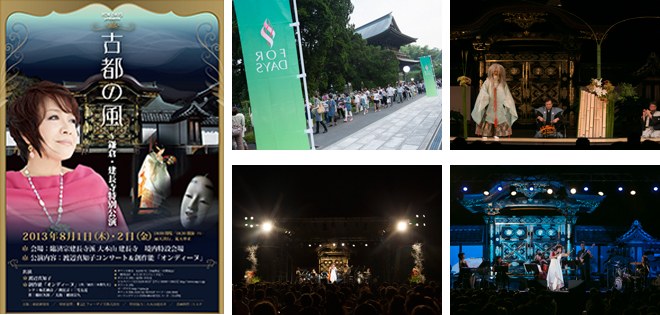 2012

Itsukushima Classic Theater 2012

The Itsukushima Shrine dedication performance (Itsukushima Classic Theater 2012), Miyajima Kyogen, took place on September 15th and 16th (Saturday and Sunday), followed by Miyajima Gagaku on Monday, September 17th, 2012. Providing a mixture of excitement at one of Japan's most prominent historical site, Itsukushima Shrine and Japan's proud traditional performing arts, kyogen and gagaku.