Body Care
Body Care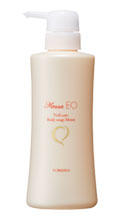 Mousa EO VeilCare Body Soap Moist
This mild soap contains amino acid-type active ingredients*12 that gently clean your skin. Also contains five types of ceramides*13 -moisture-capturing lipids that support the skin's barrier function during and after washing.
Mousa EO VeilCare Body Soap Moist forms a rich lather of micro-foam* that gently caresses the skin and removes impurities, while the moisturizing ingredients create a veil that traps moisture in the skin to ensure your skin remains hydrated after washing. The calming chamomile fragrance will help you to relax and unwind.
* A rich foam, similar in consistency to whipped cream , that gently cleanses/washes the skin.
| | |
| --- | --- |
| Product category | Body wash |
| Net quantity | 400 ml |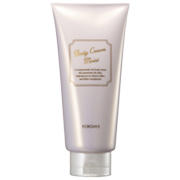 Fordays Body Cream Moist
This product contains high concentration of sodium DNA and moisturizing properties that will fulfill your desires of a sumptuously soft and beautiful skin. Formulated with 5 types of ceramides, it supports your skin's barrier function as it thoroughly moisturizes your skin. The cream gently coats the skin with a faint fragrance of a white floral scent.
| | |
| --- | --- |
| Product category | Body Cream |
| Net quantity | 150g |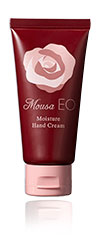 Mousa EO Moisture Hand Cream
A luxurious cream that keeps your hands thoroughly moisturized, preventing the skin becoming dry and rough . This silky smooth hand cream is quickly absorbed into the skin and leaves no sticky residue, with only the sumptuous fragrance rose oil*14 lingering on the skin.
| | |
| --- | --- |
| Product category | Hand cream |
| Net quantity | 55g |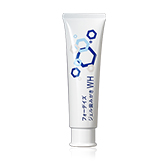 Fordays Tooth Gel WH
This gel-type toothpaste contains nucleic acid-derived ingredients*17 and three active cleaning ingredients*18 that remove plaque and stains, and whiten teeth.
Fordays Tooth Gel WH is a low-foaming toothpaste ideal for thorough brushing.
The refreshing flavors of peppermint oil*19 and eucalyptus oil*19 will leave your mouth feeling fresh and clean.
| | |
| --- | --- |
| Product category | Toothpaste (Gel type) |
| Net quantity | 100 g |
*1 Hydrolyzed milt extract, hydrolyzed sodium DNA, hydrolyzed RNA, sodium DNA. Moisturizes the skin (or hair) and enhance skin's firmness and elasticity.
*2 Saccharina longicruris extract.
*3 To delay or lessen the effects of aging, especially on the skin.
*4 Stratum corneum.
*5 PEG 7 gylceryl cocoate.
*6 Biosaccharide gum-1
*7 Exfoliating refers to the physical washing away of impurities (dirt, dead skin cells, etc.) from the skin.
*8 Moisturizing ingredient.
*9 Sodium hydrogen carbonate
*10 Papain, bromelain.
*11 Titanium dioxide alumina, stearic acid
*12 Sodium methyl cocoyl taurate, TEA-cocoyl glutamate, TEA-lauroyl/myristoyl aspartate
*13 Ceramide 1, ceramide 2, ceramide 3, ceramide 5, and ceramide 6 Ⅱ. Moisturizing ingredients.
*14 Rosa canina fruit oil (moistur izing ingredient).
*15 Algae extract. Moisturizing ingredient.
*16 Polyepsilon-Lysine. Moisturizing ingredient.
*17 Hydrolyzed milt extract, sodium DNA Humectants.
*18 Phytic acid, malic acid, sodium polyphosphate.
*19 Refreshing agent.