Body Run Bar PROTEIN BURN PLUS
Body Run Bar PROTEIN BURN PLUS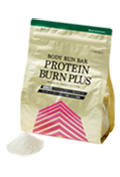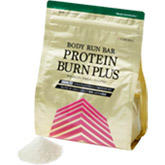 A dietary protein supplement designated for adults who want a healthy and slim body.
We have reevaluated the products features such as 'maintaining a full stomach,' 'dieting,' and focusing on 'stamina' which decline as we age and when dieting. A complex-type protein supplement designated for individuals who are aiming for a lively, slim phisique or for supplementing protein after exercise.
This product contains a good balance of proteins, vitamins, minerals and dietary fiber, making this product the perfect choice for a meal replacement.
| | |
| --- | --- |
| Product category | Protein-containing food |
| Net quantity | 520g |
Ingredients
Soy protein, maltodextrin, whey protein, inulin, cow milk, collagen peptide, powdered skim milk, doromite, glucomannan, olive extract, yeast, leucine, soy lecithin, pullulan, aspartame, sucralose, thaumatin, acesulfame potassium, L-ascorbic acid, D-α-tocopherol, niacin, calcium pantothenate, niacinamide, pyridoxine hydrochloride, riboflavin, vitamn A, floric acid, vitamin D, vitamin B

12

, ferric pyrophosphate