I Refre Clear W (Food with Function Claims)
I Refre Clear W (Food with Function Claims)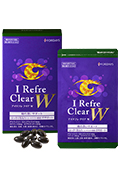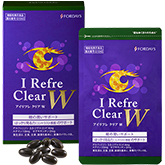 Food with Function Claims (Notification No. G1043):
This product contains delphinidin 3,5-diglucoside. Delphinidin 3,5-diglucoside keeps your eyes hydrated and temporarily relieves eye fatigue in healthy people who regularly perform VDT tasks using smartphones, computers, and video games. Studies have shown that delphinidin 3,5-diglucoside reduces eye discomfort and temporary shoulder strains.
This product contains lutein and zeaxanthin. Studies have shown that lutein and zeaxanthin help to increase the pigment levels in the macula area of the eye (an oval-shaped pigmented area near the center of the retina), which generally decline with age. Maintaining higher pigment levels helps to protect your eyes from sunlight and blue light damage to improve contrast sensitivity, thereby supporting proper eye function.
| | |
| --- | --- |
| Product category | Processed food containing maqui berry/lutein/zeaxanthin (soft-capsules) |
| Net quantity | 14.1 g (470 mg x 30 capsules) |
Ingredients
Olive oil (sourced in Spain), maqui berry extract powder, Nikko maple extract powder, eyebright extract powder, black pepper extract powder, hyaluronic acid/gelatin, glycerin, marigold pigment (containing 20 % lutein), beeswax, glycerol esters of fatty acids, cacao pigment, vitamin B

6

, vitamin B

2

, lecithin (derived from soybeans).
Nutrition information
per 1 tablets (0.47 g)

Engery: 2.94 kcal, Protein: 0.12 g, Fat: 0.23 g, Carbohydrates: 0.10 g, Salt equivalent: 0 ~ 0.01 g

Functional ingredients: 1 capsule per day
Delphinidin 3,5-diglucoside: 4 mg, Lutein: 10 mg, Zeaxanthin: 2 mg
Directions for use
Take 1 tablets per day with hot or cold water.