Hair Care
Hair Care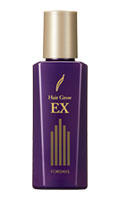 Fordays IKUMO EX
This medicated hair growth formula prevents hair loss and promotes the growth of thick, healthy hair. Fuwari IKUMO EX is quickly absorbed into the scalp, improving scalp health and creating the ideal environment for growing strong, healthy hair.
| | |
| --- | --- |
| Product category | Medicated hair growth formula (quasi drug) |
| Net quantity | 120 ml |

Fordays Hair Shampoo V
Ideal for people whose hair lacks body , Fordays Hair Shampoo V promotes the growth of thick healthy hair, giving you the volume to achieve almost any hairstyle. The rich, silky lather gently caresses the hair and scalp, and cleanses deep into the scalp's pores . Despite not containing silicone, this shampoo can be easily rinsed away without your hair becoming matted or tangled.
| | |
| --- | --- |
| Product category | Hair shampoo |
| Net quantity | 400 ml |

Fordays Volume Conditioner
Fuwari Volume Conditioner quickly goes to work on each and every strand of hair, enhancing body and shine, and leaving you with fuller, more luxurious hair that is ideal for styling. Makes hair stand more upright at the roots, reduces tangles, and prevents frizzing and fraying, while also giving your hair a lustrous shine. Despite not containing silicone, this conditioner will still leave you with a light, natural finish.
| | |
| --- | --- |
| Product category | Hair conditioner |
| Net quantity | 250 ml |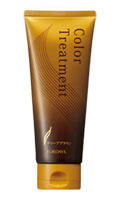 Fordays Hair Color Treatment
Combining the benefits of sodium DNA*1 and seaweed extract*15 , this color & treatment-in-one is gentle on the hair and scalp and leaves your hair a deep brown tone after every use.
An easy and convenient way to color your hair at home , Fuwari Hair Color Treatment gives your hair a gorgeous, long-lasting shine.
Also contains sodium hyaluronate and amino acids*16 that give extra shine and moisture to your hair.
| | |
| --- | --- |
| Product category | Color Treatment (Deep brown) |
| Net quantity | 200 g |
*1 Hydrolyzed milt extract, hydrolyzed sodium DNA, hydrolyzed RNA, sodium DNA. Moisturizes the skin (or hair) and enhance skin's firmness and elasticity.
*2 Saccharina longicruris extract.
*3 To delay or lessen the effects of aging, especially on the skin.
*4 Stratum corneum.
*5 PEG 7 gylceryl cocoate.
*6 Biosaccharide gum-1
*7 Exfoliating refers to the physical washing away of impurities (dirt, dead skin cells, etc.) from the skin.
*8 Moisturizing ingredient.
*9 Sodium hydrogen carbonate
*10 Papain, bromelain.
*11 Titanium dioxide alumina, stearic acid
*12 Sodium methyl cocoyl taurate, TEA-cocoyl glutamate, TEA-lauroyl/myristoyl aspartate
*13 Ceramide 1, ceramide 2, ceramide 3, ceramide 5, and ceramide 6 Ⅱ. Moisturizing ingredients.
*14 Rosa canina fruit oil (moistur izing ingredient).
*15 Algae extract. Moisturizing ingredient.
*16 Polyepsilon-Lysine. Moisturizing ingredient.
*17 Hydrolyzed milt extract, sodium DNA Humectants.
*18 Phytic acid, malic acid, sodium polyphosphate.
*19 Refreshing agent.