Fiber Mix Bio (Food with Functionality)
Fiber Mix Bio (Food with Functionality)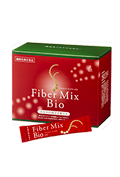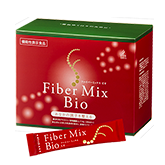 Food with functionality (Reg. No. B293): This product contains resistant dextrin (dietary fiber). Studies have shown that resistant dextrin supports regular bowel function and helps you to maintain good digestive health.
| | |
| --- | --- |
| Product category | Processed food containing dietary fiber. (Powder-type) (Yoghurt flavor) |
| Net quantity | 228 g (3.8 g x 60 stick sachets) |
Ingredients
Resistant dextrin, isomalto oligosaccharides, bacillus coagulans, bottle gourd extract/flavor, erythritol, silicon dioxide, citric acid, sweetener (stevia), chitosan (derived from crab shell).
Nutrition information per two sticks (7.6 g)

Energy: 9.8 kcal, Protein: 0 g, Fat: 0.02 g, Carbohydrate: 7.24 g (Sugars: 0.73 g, Dietary fiber: 6.51 g), Sodium equivalent: 0 g

Ingredients related to functionality: Resistant dextrin (dietary fiber): 5 g per 2 sticks
Directions for use
Take 1 or 2 sticks per day. Take each serve together with approximately 50 ml of hot or cold water. Can also be dissolved in hot or cold water prior to consuming.