Mousa Essence Drink STEM BRIGHT
Mousa Essence Drink STEM BRIGHT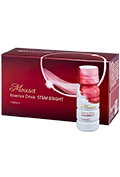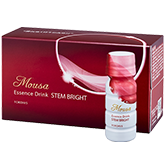 This beautifying essence drink has been renewed (previously Mousa Essence Drink SNOWy) focusing on collagen XVII and adding a new ingredient, cat's claw (Uncaria tomentosa) extract. The pineapple-derived ceramide extract added from the previous essence drink is now a standardized ingredient.
This product features moisturizing ingredients to form the basis of moist and firm skin supporting the capacity of moisture retention for a beautiful, healthy and confident everyday life.
This product is ideal for people who desire moist, supple skin that possesses a clear radiance to appear firmer and more youthful. The delicious white peach flavoring makes for a refreshing and easy-to-drink supplement.
| | |
| --- | --- |
| Product category | Non-carbonated beverage |
| Net quantity | 10 × 50 ml mini bottles |
Ingredients
Sugar, clarified honey, hydrolyzed collagen, cat's claw extract, pineapple fruits extract, zinc yeast, selenium yeast, salmon milt extract, ascorbic acid, pectin, xanthan gum, citric acid, trisodium citrate, caramel color, glycerol esters of fatty acids, flavor, sucralose, pyridoxine hydrochloride, riboflavin, thiamine mononitrate.
Nutrition Facts
(per 50 ml)

Energy: 27 kcal, Protein: 0.4 g, Fat: 0 g, Carbohydrate: 6.4 g, Salt equivalent: 0.02 g, Vitamin C: 110 mg, Vitamin B1: 1.0 mg, Vitamin B2: 1.6 mg, Vitamin B6: 1.5 mg, Zinc: 1.0 mg, Selenium: 7.0 µg,
Pineapple ceramide: 130 mg, Collagen peptide: 375 mg, Cat's claw extract: 60 mg