Mesima Phagos
Mesima Phagos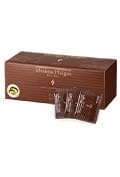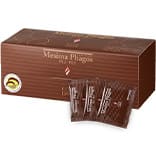 Mesima Phagos contains meshima kobu, a variety of fungus found in very few locations in the natural environment. This powder-type supplement combines two strains of meshima kobu (Mesima PL2 and PL5) with mineral yeasts (zinc, manganese, copper and selenium). Ideal for helping you to maintain good health.
| | |
| --- | --- |
| Product category | Processed food containing fungi extracts. (Powder-type) |
| Net quantity | 51 g (1.7 g x 30 sachets) |
Ingredients
Phellinus linteus mycelia powder (Mesima PL2 & PL5), mineral yeasts (containing zinc, manganese, copper, selenium), lactose, dextrin.
Nutrition information
per sachet (1.7g)
Energy: 5.9 kcal, Protein: 0.44 g, Fat: 0.019 g, Carbohydrate: 1.0 g, Sodium: 2.5 mg,
Zinc: 10 mg, Copper: 1.6 mg, Selenium: 45 μg, Manganese: 3.5 mg
Directions for use
To maintain good health, take 1 to 3 sachets per day with hot or cold water.