Natural RNA V (Five)
Natural RNA V (Five)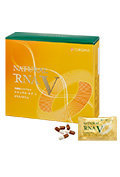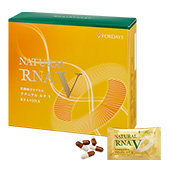 A hard capsule-type supplement primarily containing nucleic acid (RNA, DNA) and nucleoproteins as well as arginine, placenta extract, gingko biloba extract, garlic extract, vitamin C, zinc, copper, selenium, magnesium and other various nutrients.
This product is ideal for people who are looking to support their youthfulness and good health.
| | |
| --- | --- |
| Product category | Processed food containing torula yeast extract and salmon milt extract (Capsule-type) |
| Net quantity | 70.4 g ((313 mg × 5 capsules) × 45 sachets) |
| Storage Method | Store in a cool, dry place away from direct sunlight. |
Ingredients
Torula yeast extract containing RNA, salmon milt extract containing DNA, brewer's yeast, zinc enriched yeast, porcine placenta extract, ginkgo biloba extract, garlic extract, copper enriched brewer's yeast, selenium enriched yeast, gelatin, vitamin C, L-arginine, sucrose fatty acid ester, sodium ferrous citrate, calcium D-pantothenate, vitamin B

1

, magnesium oxide, niacinamide, vitamin B

2

, vitamin B

6

, titanium dioxide, caramel, vitamin A, vitamin B

12

, vitamin D, water.
Nutrition Facts
(15 capsules (4.7 g))

Energy: 17 kcal, Protein: 3.4 g, Fat: 0.3 g, Carbohydrates: 0.3 g, Salt equivalent: 0.2 g, Vitamin C: 540 mg, Magnesium: 48 mg, Zinc: 7.4 mg, Copper: 0.4 mg, Selenium: 12 μg

Torula yeast extract containing RNA: 960 mg (RNA 576 mg), Salmon milt extract containing DNA: 450 mg (DNA 240 mg), Arginine: 488 mg, Porcine placenta extract: 100 mg, Ginkgo biloba extract: 60 mg, Garlic extract: 51 mg
Directions for use
Take 2-3 sachets (10-15 capsules) per day with cold or warm water.
Swallow tablets whole; do not chew.
To prevent choking, do not take all tablets at once. Consume promptly after opening.