Favone Series
Favone Series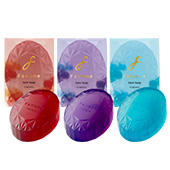 Favone Gem Soap
A facial soap with a gem-like shine and transparency. The fine creamy lather removes dirt and other toxins from the skin with a clean finish without a touch of dampness. This soap leaves your skin with a smooth sensation after washing.
| | |
| --- | --- |
| Product category | Frame-kneaded facial soap |
| Net quantity | Standard weight: 80 g |
| 3 types | Ruby, Amethyst, Aquamarine |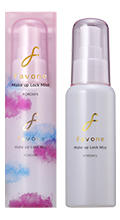 Favone Makeup Lock Mist
After applying makeup, this mist-type setting spray & lotion will keep your makeup in place for prolonged wear. The fine mist softly coats the skin, fitting perfectly to the makeup, preventing the makeup from fading and smearing while maintaining a beautiful finished-look.
| | |
| --- | --- |
| Product category | Makeup setting spray and moisturizer |
| Net quantity | 80 ml |