Aojiru & Fiber Mix
Aojiru & Fiber Mix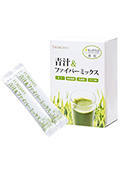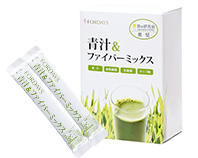 An aojiru drink containing a blend of dietary fiber, oligosaccharides, and bifidobacteria. We have used green barley as the main ingredient in order to reduce bitterness and improve drinkability. Aojiru & Fiber Mix supports good digestive health whilst also supplementing your vegetable intake.
| | |
| --- | --- |
| Product category | Processed food containing green barley. (Powder-type) |
| Net quantity | 90 g (3 g x 30 stick sachets) |
Ingredients
Young barley grass powder (sourced in Japan), resistant dextrin (dietary fiber), fermented wildgrass extract powder (dextrin, fermented wildgrass extract (contains apple)), matcha (green tea) powder, isomalto oligosaccharides, bacillus coagulans (containing milk), mulberry leaf powder, cabbage powder/tricalcium phosphate.
Nutrition information
per stick (3 g)

Energy: 7.95 kcal, Protein: 0.29 g, Fat: 0.04 g, Carbohydrate: 2.35 g (sugars: 0.84 g, dietary fiber: 1.51 g),
Salt equivalent: 0.002 g

Oligosaccharides: 100 mg
Directions for use
Take one sachet per day. Mix into approximately 100ml of water. Once powder is dissolved, drink promptly.